Ever know that they way you sleep says a lot about your personality? Well it does... The way you sleep will give insight into your inner being and can help when it comes to relationships... Dr. James Maas, sleep expert, says "Keep in mind that who you are when you are asleep ... what I call a sleep personality ... affects who you are when you are awake," said Dr. Maas. "The way you sleep can affect many aspects of your life, including your productivity at work, your overall mood, your health, and even interaction with your family."




The Fetal Position
"He's guarding his heart, a sure sign that he feels exposed. A man who sleeps this way may take longer to reveal his private side," says Todd Lyon, author of 50 Ways to Read Your Lover.





On Your Side
This position is recommended for people who snore because it allows for easy breathing. The Chinese believe that sleeping on your right side, with the left arm resting on your thigh, is the best position for your circulation. "Here you have someone who's stable and confident. But he's sensitive too-- see how the legs come up part way, protectively? Also, he doesn't take up much room on the bed. In a relationship, he'd likely give his partner space," Todd says.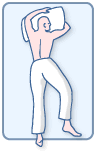 On Your Belly
Sleeping on your stomach can be hard on your back. If you're a devoted stomach sleeper who wakes up with back stiffness, try a different position. "He is a space hog, and that could carry over to the relationship as a whole. Maybe he embraces everything--the world, love, the future. But he also might be a control freak who needs to have a firm grip on everything, including his partner," Todd says.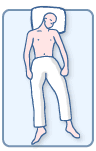 On Your Back
This position is thought to be best for the complexion because your face isn't crumpled against the pillow surface. A pillow tucked under your knees makes this position more comfortable for the back. "He's ready to greet whatever might approach him; seems like he pursues problems head-on. But don't assume he uses women. Men this open love being part of a couple. He'd enjoy having someone curl up next to him," Todd says.
Some information from Glamour Magazine